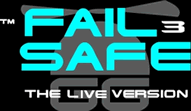 Geek Golf - FAIL SAFE 3 Titanium Driver Head:

The FS Series has culminated into The AlmoDesigned FS3!

This latest and last re-design of the FS Series of Drivers is finally of satisfactory re-design to Geek Golf and Steve Almo, the designer.

"I am very pleased with the FS3... I have made several structural design changes and I have achieved the 'perfect sound' for this Beast! This will appeal to higher handicappers and very good players as well! This club sets up at the address position.. PERFECT! I am quite pleased with the new FS3 and with the DOT COM THIS have finally completed the Geek stable of the 2 Drivers that will rival any Major Golf Company in quality and performance..... The FS3 and Dot Com This, you will agree, will put all those Major Brand Drivers into your garage where they belong...the reason? They have been Geeked!"


Face Angle: Square +/- .5
Face Height: 2 1/4"
Material: Face 15.3.3.3 Beta Titanium Cup Face
Body: 90% 6AL/4V
Color: Metallic Black
Picture: Expanded View

A FREE GEEK GOLF headcover is included - that includes a dual-magnetic drop down flap (patent pending)
Geek Heads come with a LIFETIME WARRANTY to original purchaser! You must keep original receipt.

Call for Quantity Discounts/Best Pricing