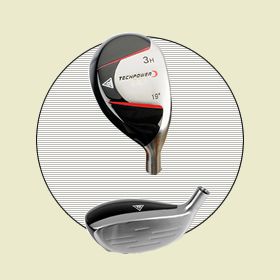 Long irons are obsolete with this easy-to-hit hybrid design
Sleek extended soleplate design lowers the center of gravity for a high launch angle
Provides the distance of a fairway wood with the accuracy of a short iron
The TechPower FX3 Hybrid Rescue clubs feature a sleek extended soleplate that lowers the center of gravity generating extra lofted ball flight for long distance.

The high launch trajectory adds carry and distance to this very accurate hybrid design.

The shallow face and sleek soleplate makes it very easy to get this club through any grass thickness, resulting in solid contact between the face and the ball on every swing.


Material: 17-4 Steel
Diameter: .370 Parallel Tip
Hosel Depth: 30mm
Finish: Metallic Black
Picture:
Expanded View