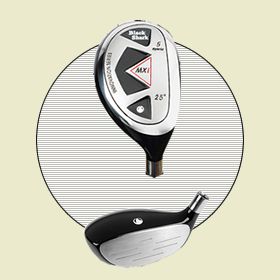 Easy to hit Hybrid design replaces traditional long irons
Perimeter balanced for superior accuracy
Compact profile provides excellent stability and solid feel
The Black Shark MXi hybrid clubs makes hitting your long irons as easy as hitting your short irons. The confidence to hit straighter shots from longer distances will have you shooting lower scores in no time.

The hybrid clubs generate a quick lofted ball flight for extra long distance and carry.

The high launch trajectory adds carry and distance to this very accurate hybrid design. The Black Shark MXi hybrid clubs are advanced technology aimed at lowing your score.

It's true hybrid length gives this club a great deal of versatility so it can be used from the center of the fairway, in the long rough and even in the short turf around the greens.


Material: 17-4 Steel
Diameter: .370 Parallel Tip
Hosel Depth: 30mm
Finish: Metallic Black
Picture:
Expanded View